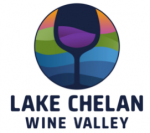 Lake Chelan is the 11th AVA (American Viticultural Area) in Washington State. This designation is an appellation of origin granted by the Federal government (more specifically the TTB). An AVA is a area with unique climate, soil and physical features that distinguish it from surrounding areas. The idea is that what is produced within an AVA is specific to that place and would not be the same grown somewhere else.
Our AVA status was granted on May 30, 2009 because the Lake Chelan Wine Growers Association petitioned the TTB for this designation. It took more than four years to accumulate all of the geographic, historical, geological, climatic, and soil information and put that through the rigorous federal process. A great deal of work and energy was put forward in accomplishing this momentous status and our growers and winemakers in the valley are quite proud to be acknowledged in this way.
Our AVA is quite easily described in terms of boundaries. It encompasses the southernmost and easternmost areas of the lake and the surrounding land that are at or below 2,000 feet in elevation.
To make it a bit easier to understand, the AVA begins with the town of Chelan and continues up lake for 12 miles. From an elevation standpoint, you are in the AVA if you could dump a bucket of water and it rolled towards Lake Chelan.