Vintners Logistics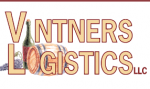 Since 2007 owner Robert Thompson and his team have been focused on working with individual winery's needs and offer a wide selection of services including:
– Temperature controlled bonded wine warehousing
– Temperature controlled transportation of wine locally, regionally and nationally
– Direct to consumer fulfillment
– Alliance with Fed Ex to provide national Cold Chain Solutions for DTC customers
– New wine barrel distribution for coopers
– Sanitation processes in place to ensure a TCA free warehouse and fleet
– Product consolidation and cross docking to help reduce transportation costs
– Empty bin and wine grape transportation from vineyard to the winery
– Quality new wine bottle options from the USA & Asia
What is the Vintners Logistics Difference?
It begins with their people — highly trained, committed, passionate people who are committed to us long-term — people who receive a competitive wage and benefits package that rewards and encourages their continued dedication not only to our company, but to you.
The Vintners Logistics difference continues with their processes — golden rule customer service, phenol-free environments and cleaning products, experienced logistics planning and execution, and compliance with all government regulations, ensuring that your products are handled safely and securely. Vintners Logistics offers technology so you can track and trace your products while in our secure, temperature-controlled and ambient-air distribution centers or on our modern, environmentally-friendly fleet of trucks.
Vintners Logistics' passion is to provide solutions for your unique needs.To contact Robert and his team today, simply call them at 509-783-5544.