Associate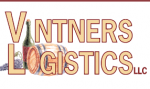 Since 2007 owner Robert Thompson and his team have been focused on working with individual winery's needs and offer a wide selection of services including:
– Temperature controlled bonded wine warehousing
– Temperature controlled transportation of wine locally, regionally and nationally
– Direct to consumer fulfillment
– Alliance with Fed Ex to provide national Cold Chain Solutions for DTC customers
– New wine barrel distribution for coopers
– Sanitation processes in place to ensure a TCA free warehouse and fleet
– Product consolidation and cross docking to help reduce transportation costs
– Empty bin and wine grape transportation from vineyard to the winery
– Quality new wine bottle options from the USA & Asia
What is the Vintners Logistics Difference?
It begins with their people — highly trained, committed, passionate people who are committed to us long-term — people who receive a competitive wage and benefits package that rewards and encourages their continued dedication not only to our company, but to you.
The Vintners Logistics difference continues with their processes — golden rule customer service, phenol-free environments and cleaning products, experienced logistics planning and execution, and compliance with all government regulations, ensuring that your products are handled safely and securely. Vintners Logistics offers technology so you can track and trace your products while in our secure, temperature-controlled and ambient-air distribution centers or on our modern, environmentally-friendly fleet of trucks.
Vintners Logistics' passion is to provide solutions for your unique needs.To contact Robert and his team today, simply call them at 509-783-5544.
The Clore Center serves as a central gathering place for industry and consumers to discover Washington wine and agriculture through engaging events and innovative programs. The Clore Center's programs address industry and consumer needs by offering four essential elements:
TASTING – Serving as "Washington's Wine Center," the tasting room at the Clore Center offers a unique, educational wine experience, guided by knowledgeable industry professionals. Visitors can learn about wines from all of Washington's viticulture areas, meet winemakers, develop their palate, and make decisions about their preference for wine. The tasting room is open daily from 11 a.m. to 5 p.m.
CLASSES – The Clore Center provides wine and culinary educational classes that cater to the needs and interests of industry professionals and consumers. Classes cover a diverse array of grape varietals, regions, American Viticulture Area's (AVA), and viticulture and enology practices.
EVENTS – Throughout the year, the Clore Center hosts several events that promote, celebrate and honor the many individuals and wineries that have contributed to the industry's significance, including Legends of Washington Wine Hall of Fame, History Through the Vines, and Rising Stars, and many others.
FACILITY – The Clore Center's campus serves as a central gathering place for many industry and community groups who utilize our facilities for meetings, trainings, and special events.
Western Square Industries, family owned and operated, was founded in 1976.  Located in Stockton, CA, Western Square is the world leader in the manufacturing of barrel racks for the winery, brewery, distillery and beverage industries.  Western Square has farm, ranch and vineyard equipment divisions, in addition to specialized product categories.  Western Square is also active worldwide in the manufacturing and sale of specialized racks for the bottled water industry.  Western Square is the distributor for Stokes Ladder for barrel rooms.