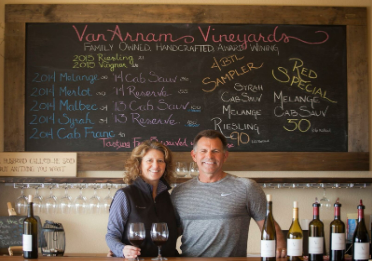 Over the years we, Kent and Allison VanArnam, have been asked many times about how we got started with our dream-come-true creation of vineyards and a winery. In 2007 after years of research as to the perfect place to grow fabulous wine grapes, we found the perfect spot in Zillah – 40 acres of fruit orchards with plenty of water and sun. Kent and his trusty tractor took out over 6,500 fruit trees and prepared the soil for grapes. With the help of family and friends, we planted our first Cabernet Sauvignon vineyard. Soon after we built our first building for wine tasting and production. Since that time, we have designed and created a production building, outdoor courtyard, concert stage, more vineyards, grill restaurant, rental cottage, several more outbuildings, our home and we are definitely not finished. We have many more ideas so keep coming to visit to see what we will create next. All of the design and most of the work is done by us following our love and passion for delicious wine and an experience of the Yakima Valley.
We focus on making the highest quality wines. Our size allows us to be hands-on every step of the way from nurturing our vineyards, picking the grapes at harvest and through all the wine making in the winery. We are located in Zillah which is in the Yakima Valley of Washington – the leading wine region in Washington state. Our vineyards grow on a southern slope of perfect soils for premium wine grapes. The winery rests on the top of a hill overlooking the vineyard and the Yakima Valley with views of both Mt Adams and Mt Rainer. We think our grapes like the views as much as we do 

.
Tasting room address is 1305 Gilbert Road Zillah, WA 98953.  Please see our contact page for a map and directions.

Great news for those or you that follow wine ratings and awards.  Recently our 2013 Reserve Cabernet Sauvignon and our 2013 Cabernet Sauvignon earned first and second place awards in the annual SIP Northwest wine completion in Seattle – over 500 wineries submitted wines.  Our Melange received a 91 rating in Wine Spectator and all of our wines earned medals at both the American Wine Society Awards as well as the SanFrancisco Chronicle Wine Competition!

Our wines can also be ordered for shipment.  Simply use this link.
Source: VarnArnam Vineyards